BY TYLER DURDEN | APR 11, 2023
The highly classified Pentagon documents which were leaked online in recent weeks, but which began being confirmed and reported as authentic by The New York Times and others only in the past few days, contain some embarrassing revelations. This has sent DOJ and US intelligence officials scrambling to discover the source of the leaks.
CNN is confirming Monday based on one of the documents which appeared online that the US has been spying on Ukrainian President Vladimir Zelensky - a disclosure which has caused officials in Kiev to be "deeply frustrated".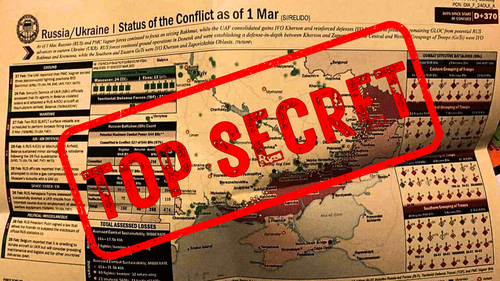 "One document reveals that the US has been spying on Zelensky," CNN reports. "That is unsurprising, said the source close to Zelensky, but Ukrainian officials are deeply frustrated about the leak."
The US intelligence document suggests that American officials have been worried about possible Zelensky decision-making to strike deep into Russian territory, which would escalate the war and potentially bring Russian and NATO into direct clashes:
The US intelligence report, which is sourced to signals intelligence, says that Zelensky in late February "suggested striking Russian deployment locations in Russia's Rostov Oblast" using unmanned aerial vehicles, since Ukraine does not have long-range weapons capable of reaching that far.
An additional possibility is that the US intelligence community might be monitoring the Ukrainian presidency's office as part of efforts to oversee and account for how the tens of billions in aid sent to Kiev is being utilized.
The Washington Post details that "many of the documents seem to have been prepared over the winter for Gen. Mark A. Milley, chairman of the Joint Chiefs of Staff, and other senior military officials, but they were available to other U.S. personnel and contract employees with the requisite security clearances."
.
.

Here are 14 more major revelations contained within the leaked intel document trove based on various media sources:
Locations of CIA recruitment efforts focused on human agents which have access to closed-door conversations of world leaders


Russia's Wagner Group tried to obtain weapons from a NATO member: Turkey. Also, some of the internal future plans of Wagner are apparently known to US intelligence


Details of sensitive satellite technology used to track Russian forces, namely the "LAPIS time-series video" - described as an advanced satellite system, which up until now has been a closely guarded secret


Ukraine battlefield assessments prepared by the Pentagon


The Guardian: "One slide suggested that a small contingent of less than a hundred special operations personnel from NATO members France, America, Britain, and Latvia were already active in Ukraine."


Descriptions of intelligence collection activities by the CIA, NSA, the Defense Intelligence Agency, law enforcement agencies and the National Reconnaissance Office (NRO)


One Feb. 23 review of the battlefield situation in Ukraine's Donbas forecasts a "grinding campaign of attrition" by Russia that "is likely heading toward a stalemate, thwarting Moscow's goal to capture the entire region in 2023."


WaPo: "The U.S. intelligence community has penetrated the Russian military and its commanders so deeply that it can warn Ukraine in advance of attacks and reliably assess the strengths and weaknesses of Russian forces."


WaPo: "A single page in the leaked trove reveals that the U.S. intelligence community knew the Russian Ministry of Defense had transmitted plans to strike Ukrainian troop positions in two locations on a certain date in February and that Russian military planners were preparing strikes on a dozen energy facilities and an equal number of bridges in Ukraine."


WaPo: A summary of analysis from the CIA's World Intelligence Review, a daily publication for senior policymakers, says that Beijing is likely to view attacks by Ukraine deep inside Russian territory as "an opportunity to cast NATO as the aggressor," and that China could increase its support to Russia if it felt the attacks were "significant."


Ukraine's robust Soviet-era air defenses -- which have thus far minimized the participation of Russian aircraft - could run out of ammunition in next several weeks.


A purported CIA intelligence update -- claims Israel's Mossad supported protests against Prime Minister Netanyahu's Supreme Court reform scheme.


One report says internal discussions show that South Korean officials are wary of requests to hand over artillery shells to the United States to replenish American stockpiles, out of concern they'd end up in Ukraine.


Another report says that Ukrainian Air Defense is in peril if it's not reinforced by Western allies


Meanwhile, the expanding breadth of subject matter has many suggesting a US source is responsible. It's being called "a nightmare for the Five Eyes" - and could damage intelligence-sharing relationships between the US and its partner countries.
.
.

The breach could also prove embarrassing for Russia as it deals with the claims that US intelligence has deeply penetrated some key areas of government, such as the Defense Ministry.
"The focus now is on this being a U.S. leak, as many of the documents were only in U.S. hands," former Pentagon official Michael Mulroy told Reuters. As opposed to electronic downloads, it appears most or all of these leaks are in the form of photographs of paper documents.
SOURCE | ZERO HEDGE